Addis Ababa University (AAU) and EiABC, in a colourful ceremony graduated a grand total of 365 students on July 8, 2017 at the Millennium Hall. Thereof were 162 Architecture students, 168 Construction Management Technology (Regular and Extension) students, 15 Urban Planning students plus another 20 from all departments post.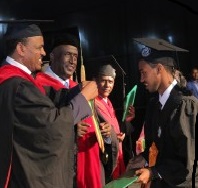 Guest of honour of the ceremony H.E. Kassa T/Berhan, Minister of Federal and Pastoralist Affairs and Board Chair of the AAU, handed out degrees and awards for valedictorians and PhD. graduates.

Professor Admasu Tsegaye, President of the Addis Ababa University warmly congratulated the graduates and families.He said that the Addis Ababa University being a prestigious higher education institution leads the production of skilled man power. "The university diligently works to drastically increase the number of graduate enrolment capacity and become a research and graduate studies hub," so the president.
The university is undertaking holistic changes, noted the president, in teaching-learning, quality education, university-industry linkage, administration, research, and community service to take a lion's share in accelerating the growth and transformation plan of the country.
He further stated that the number and quality of research outputs published on reputable journals by AAU researchers and postgraduate students, is continuously increasing making AAU one of the top prominent higher education institutions in Africa.

Extending his congratulation message to all graduates, H.E. Kassa T/Berhan, Minister of Federal and Pastoralist Affairs and Board Chair of the AAU, acknowledged AAU's unmatched contribution in producing skilled graduates for the country. To emancipate, said the minister, the country from poverty and illiteracy and transform it to holistic prosperity, the government has set strategies and policies that will pave ways for its achievement. "The overall economic revolution underway in the country can be realized through well educated and competent man power that can bring a breakthrough in transforming the existing agricultural economy into an industrial one," said the minister.

Present at the ceremony were various ministers, ambassadors and invited guests. The program was live televised on EBC.
The university cultural centre graced the event with iconic song "enkuan des alachu" which translates into congratulation!