Project coordinator: Danube University Krems. The University for Continuing Education.
http://moodle.donau-uni.ac.at/ses
Project period: October 2016 – September 2019
Local contact at EiABC:
Dawit Benti Erena
EiABC, P.O. Box 518, Addis Ababa, Ethiopia.  
Email: This email address is being protected from spambots. You need JavaScript enabled to view it.
Mobile: +251(0) 911608974
SES team at EiABC:
Abnet Gezahegn Berhe, This email address is being protected from spambots. You need JavaScript enabled to view it.

Dawit Benti Erena, This email address is being protected from spambots. You need JavaScript enabled to view it.  

Imam Mahmoud Hassen, This email address is being protected from spambots. You need JavaScript enabled to view it.

Tsion Lemma Mamaru, This email address is being protected from spambots. You need JavaScript enabled to view it.

Yonas Alemayehu Soressa, This email address is being protected from spambots. You need JavaScript enabled to view it.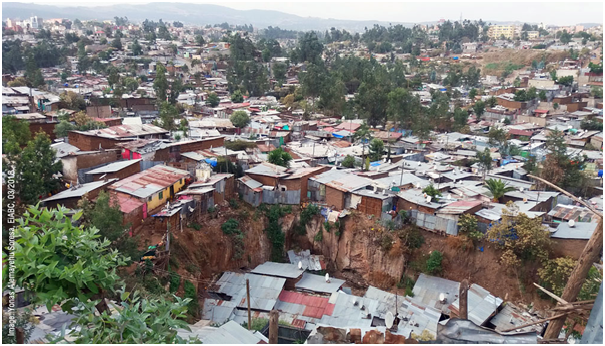 Image: Selam Sefer Informal Settlement, Goro, Addis Ababa
SES is a project funded under EU Erasmus+ Program in the field of Capacity Building in Higher Education with the intention of helping Ethiopian higher education institutions (HEIs) to introduce a holistic approach in their academic programmes. The project is a collaboration between three Ethiopian higher education institutions (HEIs): Ethiopian Institute of Architecture, Building Construction and City Development (EiABC) in Addis Ababa, University of Gondar (UoG) in Gondar, University of Mekelle (UoM) in Mekelle; and three European HEIs: Universität Kassel, Kassel, Germany, University of Twente (UTwente), Enschede, Netherlands, and Danube University Krems (DUK), Krems, Austria.
The SES project aims to increase the relevance of urban related spatial studies by introducing multidisciplinary issues such as sustainability, social inclusion, participation, energy management and urban transformation. In addition, it strengthens the relations between local HEIs that participates in the project by crating viable platform for the institutions to exchange knowledge and experience among themselves and with other actors involved in the key issues of the project. Furthermore, it increases the networking between HEIs in Ethiopia and Europe. The HEIs produce Open Educational Resources and complementary materials, and organise case studies, local dissemination workshops and national conferences that engage various social actors to arrange platforms of consultation, transfer of information and mechanisms of feedback.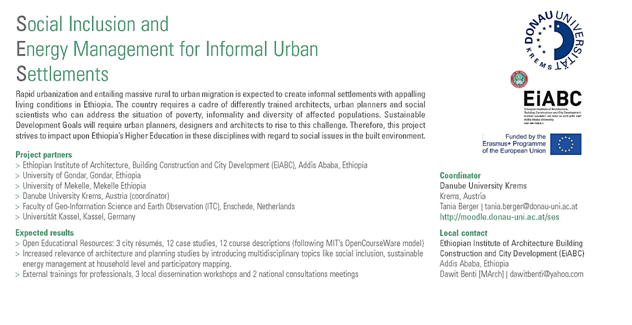 Social Inclusion and Energy Management for Informal Urban Settlements
SES – EiABC