Since 1964 GIZ has been working in Ethiopia on behalf of the German Federal Ministry for Economic Cooperation and Development. Together with the Ethiopian government GIZ is very much engaged in the university capacity building program.
On 12th October, 2016, a group of high level GIZ delegates led by Ms. Tanja Goenner, Chair of the Management Board of GIZ,visited the EiABC campus. The objective of the visit was to look at the success achieved and the challenges faced by GIZ in its institutional capacity building program.
 Ethiopian Institute of Architecture Building Construction and City Development (EiABC)  Scientific Director Joachim Dieter,  gave a warm welcome to the delegates and briefly explained about how the institute was established in collaboration with the Swedish government in 1954. He also presented its expansion and the developments and challenges that it passed through since then.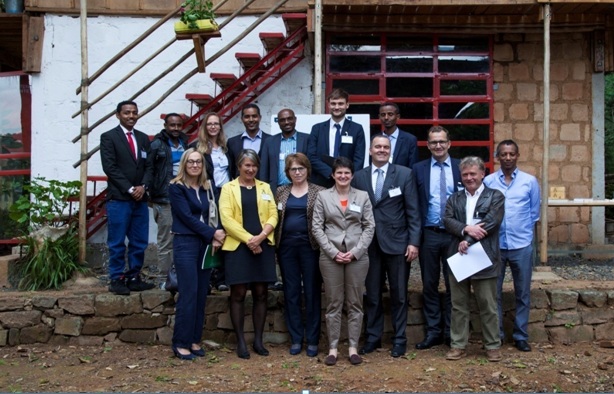 High level GIZ delegates visit EiABC campus
Joachim also stated the efforts made to develop partnerships with international universities to bring research based MA and PhD programs to the students, which can make them play a greater role in the development of the architecture, building and construction sector. He also mentioned the contribution GIZ is making towards the capacity building of higher education institutions.
The Director of Quality Assurance, Dr. Abebaw Yirga, mentioned the achievements and challenges faced in ensuring quality in higher education. According to Dr. Abebaw, new innovative templates, induction courses for new staff, the Higher Diploma Program (HDP) training and curriculum reviews have been prepared by the quality assurance directorate. Yet despite the efforts, quality is still not assured because of the lack of an established team working on quality assurance as well as the lack of cooperation amongst academics, who fail to accept the teaching profession as profession in itself and the lack of no institutional policy regarding quality. As a result of this and other factors he said we fail to "walk the walk.", but we keep working on it.
Birhanu Tsegaye, A/Director of Center for Entrepreneurship, presented on the efforts that were made with local subsides and the contribution GIZ to become a center for excellence in entrepreneurship. In addition Abel Hailegiyorgis, student at EiABC, presented his bamboo wheelchair project, which is believed to be able to reach many people with low income if more research and marketing are made.
 The GIZ delegation also discussed with Prof. Dirk Donath on the ongoing low cost housing project funded by GIZ. After their visit the GIZ delegation promised to further strengthen their cooperation with EiABC and to work hand in hand with the institute for the sustainable development of the country.