Competence Centre of Project and Construction Management (CC3)
Competence:
Teaching
The Teaching Activities of the Chair of Construction Management are intended to enable students develop skills necessary to become successful construction managers. In these regard the chair of construction management has adapted teaching methods and materials in such a way that our courses meet the huge demand for management professionalism/professional management practitioners in the Ethiopian Construction Industry.
courses:
Construction Management
Principles of Construction Management
Performance Management
Construction Planning and Scheduling
Construction Equipment Management
Human Resources Management
Financial Management in Construction
Computer Based Construction Planning (Project)
Low Cost Construction Management (Project)
Construction Materials Management
Cost Engineering
Construction Management
Holistic Project
Research and Consultancy:
The Chair of Construction Management pursues a strategic approach in its Research and Consultancy endeavors by meeting the nation's rising demands in such regard. Therefore, it suffices to say that our Research and Consultancy focus will revolve on rising industry problems in the Ethiopian Construction Industry.
current research activities:
Capacity Building Training for One Hundred Representatives of Local Construction Contractors in areas of – Efficiency: interims of Cost and Input, Time Management and Contract Administration. This training is given in collaboration with the Addis Ababa City Administration
The Use of Bagas-ash for cement replacement material for SCC (Self-Compacting Concrete) Production
Future Plans:
We are very proud to announce that the Chair of Construction  Management has developed a new curriculum for a new program to be given at EiABC at the postgraduate level. The program is entitled Master of Science in Construction Project Management. It is expected that The Chair of Construction Management/EiABC shall receive students under this program starting from the coming September.
Members

Tadesse Ayalew [MSc]
Chair Holder/Lecturer
E-mail    This email address is being protected from spambots. You need JavaScript enabled to view it.

Minweyelet Ejigu [MTech]
Lecturer
e-mail    This email address is being protected from spambots. You need JavaScript enabled to view it. 
                           Abel Seyoum [BSc]
                                    Assistant Lecturer
                                    e-mail   This email address is being protected from spambots. You need JavaScript enabled to view it.

Teklebrhan Kidanu [BSc]
Assistant Lecturer
e-mail    This email address is being protected from spambots. You need JavaScript enabled to view it. 

Zewdu Seblework [BSc]
Assistant Lecturer
e-mail     This email address is being protected from spambots. You need JavaScript enabled to view it.

Geremew Tarkegn [BSc]
Asistant Lecturer
e-mail    This email address is being protected from spambots. You need JavaScript enabled to view it.
Location / address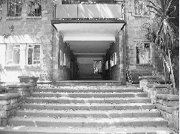 EiABC at the Addis Ababa University
South Campus – Lideta
Administration Building
Phone. +251(0)112 76-76-05
P.O. Box 518
Addis Ababa – Ethiopia