Competence Centre of Building Technology and Structural Design (CC2)         
Teaching
This Chair introduces students to the material parameters and basic behaviour of materials for solid building constructions, and provides fundamental knowledge about foundations and soil mechanics in the field of Geotechniques.
Construction Materials: The students learn about the interrelation of materials, construction and design, material's properties, production processes and how various building elements are realized in various materials.Students will be enabled to assess the appropriate use of materials and select various materials and combined systems according to the technical requirements.
Geotechniques: The Chair focuses on the study of physical properties of soils, their relevance in soil mechanical behaviour as strength, compressibility, stability and drainage. The students will get a fundamental insight in basic soil mechanical properties and processes, and how these are used in geotechnical engineering practice, in construction and excavation works.
Workshop Training: Here the students are introduced to basic principles and practices of building materials. The practical training shall provide an understanding of the material's properties, production processes and how various building elements are planned, joined and executed in common construction systems.
courses: 
Construction Materials I (ARCH and COTM)
Construction Materials II (ARCH and COTM)
Workshop I (ARCH and COTM)
Workshop II (ARCH and COTM)
Concrete Technology (COTM)
Soil Mechanics (COTM)
Foundation (COTM)
Bachelor Thesis and Master Thesis (Architecture and COTM)
Research:
The Chair will focus on research in the field of material innovations leading to new products for the industry
Services and consultancy
The Chair is working in close cooperation with the MTRC (Materials Research and Testing Center) in the sector of construction material testing according to the demand of the construction industry.
Members
Hailemariam Girma  [ ]

Chair Holder
Mobile 
email    This email address is being protected from spambots. You need JavaScript enabled to view it.
  Argaw Tarekegn [MSc]

   Study Leave
   Lecturer 
   Mobile   +251(0)912 01-12-37
email    
This email address is being protected from spambots. You need JavaScript enabled to view it.

  Abenet Getachew [BSc]

   Assistant Lecturer
   Mobile     +251(0)911 37-63-52
   e-mail     This email address is being protected from spambots. You need JavaScript enabled to view it.

  Belay Yitayew [MSc]
   Lecturer
   Mobile    +251(0)911 35-05-76
   e-mail    This email address is being protected from spambots. You need JavaScript enabled to view it.

  Estifanos Bogale [BSc]
   Assistant Lecturer 
   Mobile    +251(0)911 51-69-24
   e-mail    This email address is being protected from spambots. You need JavaScript enabled to view it. 

   Tewelde Kifle [BSc]
   Assistant Lecturer
   Mobile     +251(0)911 99-04-25
   e-mail     This email address is being protected from spambots. You need JavaScript enabled to view it.
 Workshop Staff

Yalemzewde Tesfaye [Diploma]
  Workshop Trainer
  Mobile    +251(0)911 87-31-38
  e-mail    This email address is being protected from spambots. You need JavaScript enabled to view it.

  Seid Mohammed [Advanced Diploma]
   Workshop Manager and Trainer
   Mobile    +251(0) 911 12-20-30
   e-mail    This email address is being protected from spambots. You need JavaScript enabled to view it.
 Location / address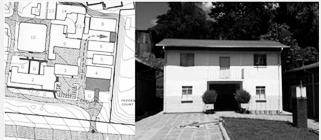 EiABC at the Addis Ababa University
   South Campus – Lidetta
   Chair of Construction Materials and Geotechniques
   P.O. Box 518
                                                     Addis Ababa – Ethiopia