Context and Objectives
Ethiopia is experiencing a fast population growth, urbanization and industrial development. The EiABC  is striving to harmonize the rapid urbanization and industrialization with a balanced and sustainable socio-economic and eco-friendly development with a clear focus on design capacities. EiABC has been founded in 2010 as a response to the demands of Ethiopia and its young generation.
The EiABC Master Programs enable and prepare students to serve the national and international labor market after graduation or to follow an academic career.
Master Programs at EiABC: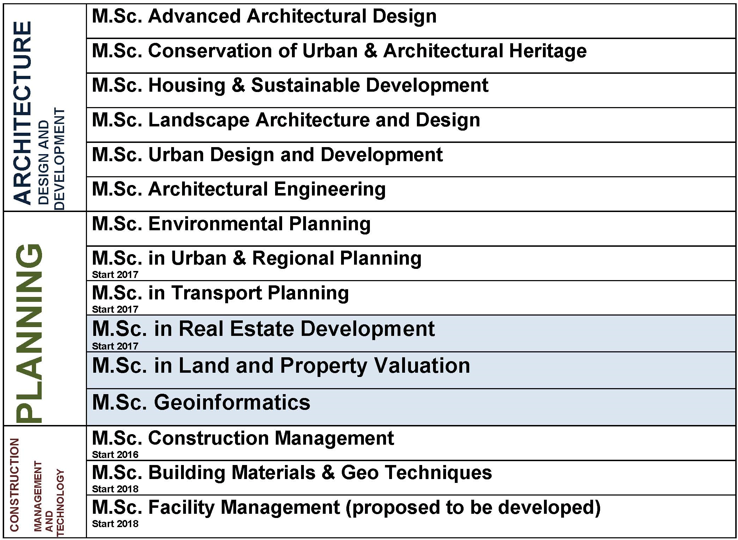 Academic Degree: M.Sc.
Duration of Program 1.5 Years/2 Years
Requirements: Qualified Bachelor, GPA 3.0+, Entrance Examinations
Program: Structured Modules & Applied Research 
Career Perspectives
There is an unmet demand of highly qualified Architects, Urban and Regional Planners and Building Construction Technology Managers in the public and private sector. Large numbers of graduates are needed today and in future with state-of-the-art knowledge, skills and competencies in design, planning, building construction and technology, construction project management, preservation of natural and cultural heritage, waste management, environmental planning and protection as well as in landscape design.
The expanding higher education sector opens attractive  career perspectives for excellent EiABC Master graduates who are heading for an academic career being devoted to teaching, research and technology transfer.
The EiABC Master Programs also open pathways to leadership and planning positions in ministries, public agencies, industry, international organisations and NGOs. There are also attractive career perspectives in the field of consultancy.
Contact
Director of Graduate Studies
Ethiopian Institute of Architecture, Building Construction and City Development
Addis Ababa University
P. O. Box 518
Addis Ababa, Ethiopia
Phone:   +251(0)112 76-76-05
Email: This email address is being protected from spambots. You need JavaScript enabled to view it.