Competence Center of Project and Construction Management (CC3)
Competence:
Teaching
Under the guiding principles of the EiABC, design and Sustainability, the Chair of Project Management is currently engaged in teaching various courses in the Architecture and Construction Technology and Management Programs.These courses are given to undergraduate students.These courses equip students with skills that will add up to give students insight into the different knowledge areas that will enable them to manage projects.
courses:
Architectural Practice and Management

Specification and Quantity Surveying

Construction Site Supervision

Cost Engineering

Research and Technical Report writing

Introduction to Professional Practice

Construction Health and Safety Management

Entrepreneurship
Research:
The Chair of Project Management aspires to engage in research projects that will contribute to the different bodies of knowledge of project management.
current research activities:
Efficient labor group formation for selected building construction activities.
The construction sector in Ethiopia is in a boom.This is an evident fact witnessed by a brief look out over the sky line of our cities as well as the various ongoing infrastructure projects.It is equally a fact that although the sector has shown a rapid growth this is not proportionally supported by robust construction methods and skills.This research topic is attempting to propose an efficient construction crew formation for selected building construction activities.It will also dwell on efficient construction methods that will be coupled with the a proposed number and grouping of skilled and unskilled laborers for selected construction activities.
Services and consultancy
The Project Management Chair at the EiABC gives consultancy to clients with unique project management needs arise from time, budget or complexity of project.The chair welcomes requests for its services from public and private organizations as well as embassies and development organizations.
Members

Wendwosen Demrew [MSc]
Chair Holder
Lecturer / Architect
Mobile   +251(0)911200092
Email This email address is being protected from spambots. You need JavaScript enabled to view it.

Amanuel Teshome [MArch]
Lecturer/ architect 
Mobile    +251(0)911 21-87-69
Email     This email address is being protected from spambots. You need JavaScript enabled to view it.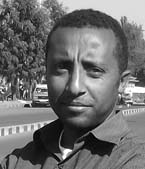 Henok Fekade[MSc]
Lecturer 
Mobile   +251(0)911 63-14-44
Email     This email address is being protected from spambots. You need JavaScript enabled to view it.
Brook Tefera [BArch]
Assistant Lecturer/ architect
Mobile   +251(0)911 69-31-25
Email    This email address is being protected from spambots. You need JavaScript enabled to view it.
Tsegaye Girma [B.Sc. COTM]
Assistant Lecturer / construction manager
Mobile   +251(0)930033240
Email    This email address is being protected from spambots. You need JavaScript enabled to view it.

Bezawork Geremew [BSc]
Assistant Lecturer
Mobile    +251(0)911 13-65-59
e-mail     This email address is being protected from spambots. You need JavaScript enabled to view it.
Location / address
EiABC at the Addis Ababa University
South Campus – Lideta
Administration Building
Phone. +251(0) 112 76-76-05
P.O. Box 518
Addis Ababa – Ethiopia